In-line Construction specializes in all phases of interior remodeling for both residential and commercial properties.  Start the conversation with us today and we will be able to provide you with a free estimate on your project.  With our extensive experience we are able to get the job done right the first time and will provide you with accurate expectations on the timeline and cost of your project.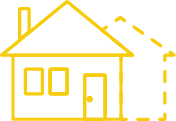 You've decided to transform your home.
Now what?
Most people may not even know where to begin once they decide they are ready to build an addition or undertake a major renovation of their home. We specialize in additions and whole house remodeling. It is common for us to approach a project from a functional perspective and rework the entire space to fit the homeowners' lifestyle and budget. We believe it's important for you to understand what to expect during the process, from the first conversation to the last coat of paint.
We approach additions and large renovation projects as an ongoing conversation between the homeowner and our team, discussing every detail the whole way through to completion. Your project will have two phases: Design and Build, each with a distinct and proven process to keep on schedule and on budget.
Home Offices
Attached Shops and Garages
Rental Suite Additions
In-Law Suite Additions
Home Fitness Rooms
Home Theater Rooms
Adding 2nd Level To Single Level Homes.
Family Room Additons

Great News! We can help you make your dream kitchen a reality and everything you love about your home!
Remodeling and Renovating your Kitchen is a serious home improvement project and will make a very meaningful transformation within your Berks County home. Renovating your kitchen to better suit your families' specific lifestyle needs is a great way to be happier in your home and the remodel can even increase the value of your home if you ever plan to sell.
In-Line Construction knows and understands that your kitchen is the heart and soul of your family life within your home and that's why In-Line Construction will help you carefully plan, design, pull permits if required and then build your dream kitchen with your own needs and personal style in mind.
With so many kitchen remodeling design trends and styles of materials to choose from, remodeling your kitchen can seem overwhelming.  In-Line Construction will work with you every step of the way from providing kitchen remodeling ideas, drafting your kitchen layout, custom cabinet selection, countertops, flooring, colors and finishes and even down to helping you choose the right appliances and where to place them for the best convenience.
We have kitchen remodeling ideas and projects that can fit almost every home owner's budget. Even a few small kitchen renovation projects can transform an older kitchen into a more enjoyable and functional space for you and your family.  You will be pleasantly surprised how a few small changes to your existing kitchen can have huge impact!
Custom Countertops
Custom Cabinets
Tiled Floors
Tiled Back Splashes
Stainless Steel Back Splashes
Kitchen Drafting and Design
Transforming your current kitchen into your dream kitchen is what In-Line Construction does best. Your new kitchen will improve your quality of life and make your home more enjoyable. Not only that, but a professional kitchen remodeling job can make a great positive impact on the resale value of your home, too.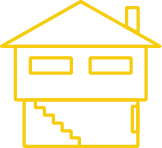 Is your basement creepy, damp and unused?
It doesn't have to be!
Basement Finishing is probably the one area of your Berks county home with the most potential for a home remodeling project because it will literally double the available space in your home without further encroaching onto your property.  Finishing your basement also brings a higher return on investment when you decide to sell your home with many homeowners able to recoup 70-80% or more of the cost back upon sale.
Because of all the available space in most basements there are several options available to homeowners who wish to turn these often unused areas of the home into a more beautiful and functional living space for your family. In the case of a basement rental suite (which we have experience building) you could even turn your basement into an extra source of revenue.
Generally, Basement Finishing projects are easier than home additions because most basements won't need any exterior construction, aside from a window installation or two. Your basement may already have plumbing and electrical systems in place, which is another factor that can help keep costs down.
Finished basements are much more than just an extra room. They can serve many purposes:
Kids' Play Room
TV Room
Office Space
Laundry Room
Workshop
Storage Area
Hobby Area
Extra Bedroom, Bathroom & Shower
Additional kitchen
Bar area and Entertainment Area
A Man's Cave or Ladies Sewing Room & Office
A Ladies Cave for the Girls to Get Together
Apartment or Mother-in-Law Suite
Contact In-Line Construction today to start a conversation about your project and to set up a meeting for an initial consultation and free estimate on your project.
Are you Licensed in PA?
Yes, In-line construction is licensed for construction throughout Pennsylvania.
License # PA095368
Do you charge for estimates?
No. Our estimates are provided free of charge.
Is your company insured?
Yes. In-Line Construction is insured, carrying multiple policies as required by the state.
Residential or Commercial construction?
In-line Construction specializes in all phases of exterior remodeling for both residential and commercial properties. With our extensive experience we are able to get the job done right the first time and will provide you with accurate expectations on the timeline and cost of your project.
Do I need a permit?
Permits depend on the work being performed. Contact us to discuss your specific needs & we will assist you in the process.